Chancellor's FirstGen Flames Abroad Scholarship
Chancellor Michael Amiridis has graciously supported the launch of a new scholarship to encourage first-generation, first-year undergraduate students to study abroad.  The Chancellor's FirstGen Flames Abroad Scholarship is designed to award first-year students whose parent(s) did not complete a bachelor's degree with a scholarship to study abroad. Students will find out during their first year at UIC if they have earned the scholarship and will have the remainder of their time at UIC to use the scholarship towards the costs of an approved UIC faculty-directed or exchange program. In addition to receiving a scholarship, FirstGen Flames Scholars will participate in a series of workshops as a cohort to learn about selecting a study abroad program, opportunities for additional funding, integrating study abroad into their academic major, and using international education to advance their career.
Our goal, as with everything we do, is to provide students with the tools they will need to be successful after graduation. One of the greatest tools we can offer is the opportunity to study outside of their comfort zone – and to experience life and learning in another country.
Please expand this section for details about the scholarship and application process.
Scholarship details

Check out a recording of the information session we hosted on February 11th, 2022!

Scholarship amounts:

10 students will be selected to receive a scholarship to study abroad. Scholarship amounts will vary depending upon the length of program the recipients choose:

Less than 3 weeks: $1,600
3-6 weeks: $2,100
Semester: $2,600

Eligibility criteria:

Preference given to first-generation college students with a demonstrated financial need
Be a degree-seeking undergraduate UIC student in their first or second semester at UIC
Complete 12 UIC credits by the end of the spring semester
Demonstrate financial need and have a current FAFSA OR Alternative Application for Illinois Financial Aid on file with UIC Financial Aid Office at the time of application
Be in good academic standing and have no outstanding sanctions with the University
The student may only apply the scholarship to a UIC faculty-directed or exchange program. Students will not be able to use it for partnership and direct enroll programs.

Scholarship Recipient Responsibilities

If selected to receive a FirstGen Flames scholarship, students will be expected to:

Attend an induction ceremony in the fall semester
Participate in First Gen Flames Abroad workshops to prepare for and reflect upon study abroad and promote the scholarship and mentor new cohorts
Participate in in a campus-wide event promoting study abroad and celebrating first-generation college students for National First-Generation College Student day
Assist the Study Abroad Office in promoting study abroad by sharing photos and testimonials about studying abroad

The Spring 2023 application cycle details will be available ahead of the Spring 2023 semester..

Students who meet the above eligibility criteria are encouraged to apply for the scholarship via SnAP. The application will consist of responding to the following prompts in either a written essay or creative video format submitted via the SnAP application.

In what ways do you anticipate this program will challenge you? As a first-generation college student, what strengths do you have that have helped you achieve your goals so far? How do you envision these strengths might help you be successful while studying abroad?  Please be specific in addressing any challenges you have overcome and the skills you used to do so.
Why do you think studying abroad will be beneficial for your personal, professional, and academic goals? How do you envision your study abroad program contributing to the development of leadership skills, your academic program at UIC, and your anticipated career afterward?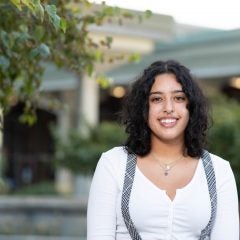 Jocelyn Becerra

Jocelyn is pursuing a degree in bioengineering with interests in mechanical engineering, human development, and supporting those with disabilities. She is interested in exploring study abroad programs in Japan, Greece, Italy, Costa Rica or Spain and is most excited about meeting new people and working to understand cultural differences.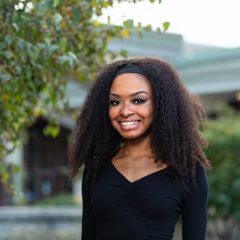 Celeste Bonga

Celeste is majoring in kinesiology and is a track-and-field athlete.  She is open to exploring study abroad programs in many destinations but has a specific interest in France and the continent of Africa. She is most looking forward to experiencing a different culture and having the opportunity to study and live in a different environment.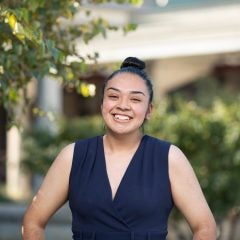 Guadalupe Cuellar

Guadalupe is studying political science and economics with a minor in international studies and math. She is considering studying abroad in South Korea, the United Kingdom, France, or Spain and is most looking forward to immersing herself in the host culture and engaging with locals.
Grecia Espinoza

Grecia is studying public health. She is considering a few programs, including UIC's Disaster Preparedness and Global Health in the Caribbean program, studying holistic medicine in India, or perhaps studying Spanish in Spain. She is most excited to meet new people from outside the U.S. and to get to know their culture by discovering new foods and hobbies.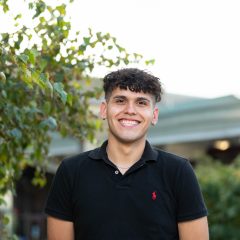 Ivan Garay

Ivan is majoring in finance. He is interested in studying abroad in Italy. Having not traveled much outside of Illinois, he is most excited to learn in a different context. Ivan shared that studying abroad will help him in his future profession as a financial analyst by allowing him to enhance skills such as communication, adaptation, and appreciating different ideas and perspectives.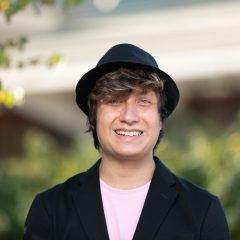 Alex Lopez

Alex is a junior English major who is interested in teaching English abroad, ideally in Japan. He is most excited about trying new foods and meeting new people. Alex shares that he wants to study abroad to step outside of his comfort zone and to broaden his horizons by experiencing new traditions.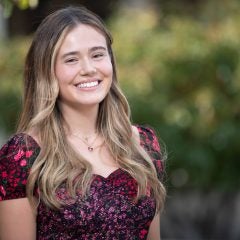 Yadira Martinez-Victoria

Yadira is studying marketing and is interested in studying abroad in Spain. She is most excited to experience what life is like outside of the United States and is eager to learn about the education system of her host country.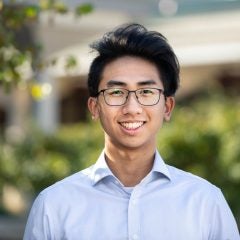 Jason Mei

Jason is studying business administration. He is interested in exploring study abroad options in Europe, South America, or Africa and is most looking forward to expanding his own perspective and meeting people from different cultures.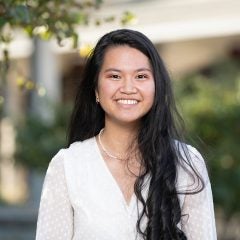 Maegan Resuello

Maegan is studying art history and is specifically interested in 18th century French art history. She is hoping to study abroad in France or elsewhere in Europe and is most excited to meet new students abroad and to expand her network.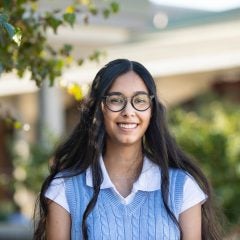 Jocelyn Ruiz

Jocelyn is studying art and specifically enjoys working with acrylic paints. She has always been interested in studying abroad and is open to studying in many different countries. Jocelyn is looking forward to studying abroad to push her outside of her comfort zone and to expose her to new ideas and potential areas of interest for her academic and career goals.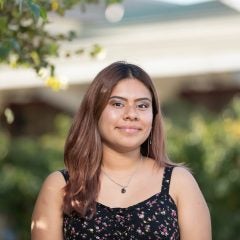 Emily Villagomez

Emily is a student in the College of Liberal Arts & Sciences and is considering a major in anthropology or archaeology with a minor in art and entrepreneurship. She's considering studying abroad in Spain and explained in her application that studying abroad will help her in the fields of anthropology or archaeology by giving her insights into how other cultures live while assisting her in gaining experience in connecting with people from different backgrounds.