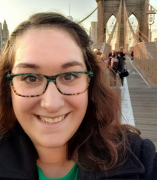 Maggie Miller
Study Abroad Advisor
Study Abroad Office
Pronouns: She/Her/Hers
Contact
Office Phone:
Email:
About
Maggie joined the UIC Study Abroad Office in November 2018. She graduated from Lawrence University in 2013 with a B.A. in Spanish with concentrations in Education, Gender Studies, and Art History. She spent her junior year studying abroad in Salamanca, Spain. After graduation, she worked for a year working as an Au Pair in Madrid, Spain and Rome, Italy.
Maggie is the primary contact for the Study Abroad Office for all students, faculty, and staff. She assists in outreach and creating promotional materials. She supervises all program operations and academic processing for study abroad, including registration and subsequent transcript articulation, and ensures compliance with international insurance requirements. She also leads the development of data collection and reporting/retrieval systems that directly correlate with university and international education professional standards of best practice and federal guidelines.
International Engagement:
In addition to short visits throughout Europe, Mexico, and Morocco, Maggie has spent a significant amount of time living in Spain and Italy.