First Step
First Steps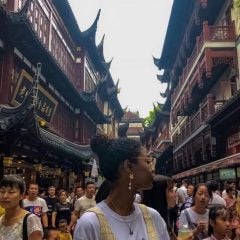 "Studying Abroad gives students the opportunity to not only experience the country, people, and culture which they're visiting, but it also gives them the opportunity to practice independence while building upon many other aspects of self-development that stem from being plucked from ones daily routines and normal surroundings. Studying abroad is freedom."

SIT Geneva, Switzerland and Wanxiang Fellowship, Hangzhou, China

|
Attending a First Step Info Session
First Step Info Sessions are mandatory for all study abroad applicants as a starting point for the application process. Choose one of the following options:
The presentation will review how to select a program that aligns with your academic, personal, and professional goals, the application and course approval processes, financial aid policies, and scholarship opportunities.
Option 1 – Complete First Step online:

The video is available online anytime.
Start your First Step advising application via our Flames Abroad Portal.
Watch the video, mark as read, complete the questionnaire within the portal, and submit to complete this step.

Option 2 – Attend First Step live via Zoom or In-Person at UH 502:

The presentation will start on time. Late arrivals will not be able to enter the room.
Please note which sessions will take place via Zoom and which will be in UH 502.
The session will last approximately 30 minutes during which you will watch an introductory video followed by an open Q&A session with our Study Abroad Advisor. Please do not attend this if you have already seen the video – schedule a separate appointment with the Study Abroad Advisor.
Please schedule a First Step Info Session by visiting us on iAdvise. After the session, our Study Abroad Advisor will have you complete a questionnaire via our Flames Abroad Portal to finish your First Step.

To schedule your First Step Info Session, log on to my.UIC.edu and visit the Advising Tab. Click on iAdvise and you will go to your Success Network. Search for "Study Abroad" in the search bar and select "Study Abroad First Step" to schedule your group appointment with our Study Abroad Advisor. 
First Step Info Session Schedule
We will be holdling First Step Info Sessions via Zoom on the schedule below from April 5th - August 23rd.

| | | |
| --- | --- | --- |
| Mondays 2:00pm (UH 502) | Tuesdays 12:30 pm (UH 502) | Wednesdays 12:00pm (Zoom) |
| Wednesdays 3:00pm (Zoom) | Thursdays 12:30pm (Zoom) | Fridays 11:00 am (Zoom) |