Career Resources
Consider Your Study Abroad Experiences in Terms of Employability
What Employers Are Looking For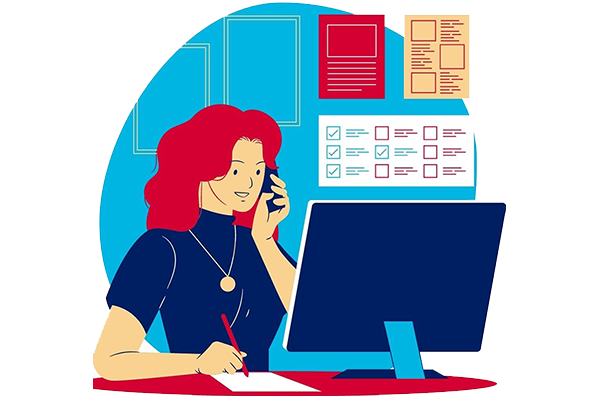 Study abroad prepares students for their professional workplace, especially in today's increasingly more interconnected and global economy. Employers value a variety of skills and previous international experiences such as study abroad.  Read through the surveys, articles, and resources below to learn more about what potential employers are looking for in their hiring process.
Reflect on Your Transferrable Skills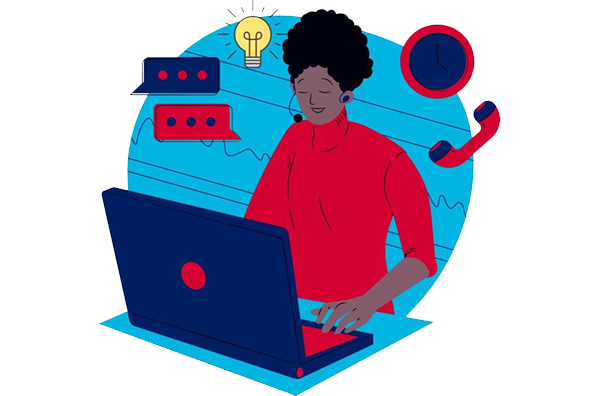 You have already gained the experience, now it is time to reflect on transferrable skills and competencies you gained abroad. NACE (National Association of Colleges and Employers) has defined and developed eight core competencies essential for career readiness.  Review these competencies, and then reflect on experiences that illustrate how you gained and exhibited these traits so that you can utilize them in your job-market materials and interviews.
Market Study Abroad for Your Career
The fact that you studied abroad can set you apart, as only about 10% of U.S. students study abroad. HOW you share your experience matters. In your job materials, focus on what you learned, and how you grew professionally. Be strategic about what you share about your study abroad experiences with employers; be mindful of your audience. It is different to talk about your study abroad experiences with a professional (employer, mentor, professor) than with your friends. Do not expect the employer to be familiar with anything about your program/experience.
Read the material below for tips and resources on how to market your study abroad experience in your resume, cover letter, and interviews.
Resume
Study abroad can be integrated into your resume in the education, experience, and skills section.
Education:
In the education section of your resume, underneath your home university and any other previous institutions you may have attended, add a study abroad section which includes your host university (if applicable) or study abroad program title, location, enrollment dates, program of study, and any relevant coursework.
Experience:
Highlight any jobs, internships, projects, community practicums, clinical observations, or independent research you conducted while abroad. Review action verbs and transferrable skills that employers are looking for to identify examples of those from your study abroad experiences.
Consider creating a sub-section under your experience titled "International Experience," "Cross-Cultural Experience," or "Global Experience" to showcase your experiences abroad more explicitly. Remember, intercultural experiences or internationally focused coursework,  jobs, and internships you may have had in the U.S. can also be highlighted in this section.
Every bullet point within your experience section should begin with a powerful action word.  For a list of examples, read the UIC Career Services' Career Planning Guide.
Skills:
List any skills you developed while studying, interning, researching, or volunteering abroad.  If they are mentioned in the experience section, it is important to highlight them again in the skills section.
List any languages you speak or write along with your level of fluency (native, bilingual, near native, fluent, advanced, intermediate, novice). Describe the contexts and situations you are able to utilize these languages (conversationally, orally, reading, writing). If you have translation experience, highlight that here as well. Reference the ACTFL Oral Proficiency Levels in the Workplace resource to learn more about your language level, consult with your foreign language professor(s), and talk with your study abroad or career services advisor.
Interviews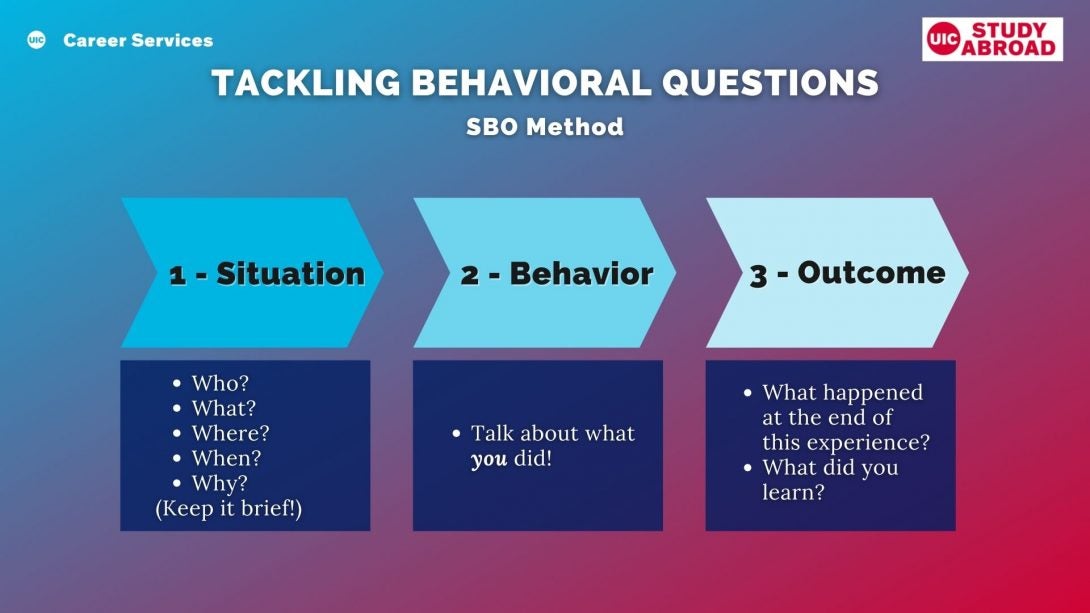 Employers want to hear the story behind the skills you possess.  Based on the skills and experiences you identified from your study abroad experience, prepare several narratives of your experiences that you can use to demonstrate your skills in interviews. Focus on your motivation for studying abroad as a strategic decision for personal, professional, and academic growth. Additionally, be sure to highlight experiences where you can showcase your cross-cultural skills, a component of the NACE Core Competencies.  For some, study abroad may be the first opportunity you have had to engage in high-impact experiences such as research, an internship, volunteer work, or clinical observations. These should be some of your go-to references. The more you practice re-telling these narratives, the more comfortable you will feel sharing them in high-pressure situations such as a job interview. When answering a situation-based question in an interview, it is recommended to follow the SBO (Situation, Behavior, Outcome) or STAR Model (Situation, Task, Action, Result).
Study Abroad-Related Interview Questions
Your interviewers want to hear about your experience in greater detail than was included in your resume and cover letter.  This is an opportunity to demonstrate your maturity, growth, and the skills you developed.  Many times your interviewer inquires about your lived experiences, such as study abroad, as a way to connect on a personal level over common interests and experiences.  Be sure to reflect carefully about what you share and be true to your own identity, personality, and professional strengths.
Why did you choose to study abroad?
Why and how did you choose your program location?
What skills did you learn abroad? How will these skills be helpful to you in the future?
Situation-Based Interview Questions
These are common interview questions aimed to address how you react to challenging situations, solve problems, and collaborate with team members.  Many of the experiences you had and the people you encountered in study abroad provided you ample scenarios for which you can reflect upon and share in an interview setting.  Be sure to utilize the SBO method shared below.
Tell us about a time where you had to adapt quickly to an unplanned situation. What was the situation and how did you adapt to it?
Share a time when you interacted with people who may be different from you. What was the situation and how did you communicate across differences?
Tell me about a challenging situation while you were abroad and how you handled the situation.
Share about a time when you struggled to accomplish a goal or meet an objective. What happened and what might you do differently next time?
Describe a time when you collaborated with others in a group situation. What was the situation and what role did you play in the group?
Cover Letter and Personal Statement
Writing an effective cover letter can be a crucial element of the job search process. You want to be as specific as possible in demonstrating to the employer how your past experiences have given you the desired skills referenced in their job posting. In your cover letter (for jobs) or personal statement (for grad school), you can reference the following subjects related to study abroad:
How did your study abroad experience impact your decision to seek the current opportunity (i.e. graduate school, specific job, fellowship, etc.).
Elaborate on some of the transferable skills you developed abroad and weave in narratives behind the bullet points on your resume. Make sure to link the transferrable skill to one or more that they specifically reference in their job posting and explain how your study abroad experience helped you to develop the skill(s).
Find Resources & Connect with an Advisor
Unpack Your Experience
Do you want help thinking through lived experiences abroad and how those might translate into your future career endeavors? Schedule an appointment with your study abroad advisor or another member of our team to reflect on your study abroad experience.
Visit UIC Career Services
Career Services is available to help all UIC students and alumni explore career paths and prepare for job searches. Career Services offers regularly scheduled events, workshops, and fairs to help connect you with job and internship opportunities. Advisors can assist with reviewing resumes, cover letters, or other job-search related documents. Additionally, they are an excellent resource to help you identify transferrable skills from high-impact experiences such as study abroad and integrate them into your interview and job search materials.  Schedule an advising appointment with Career Services to learn more about internationalizing your career and how to reflect your global experience in your job application materials.
Connect With Your College-Specific Career Center
In addition to the campus-wide Career Services Office, many colleges and schools at UIC offer advising, programming, and job material preparation assistance specific to your major(s) and pre-professional studies. There are a multitude of resources available to help make you the most successful applicant possible in the job market.  Connect with your college-specific career center and ask them how to best incorporate your study abroad experience into your job market preparation within your specific field.  Take the Career Competency Challenge with UIC Career Development & Internships (LAS).
Internationally Focused Companies and Organizations in Chicago
There are many organizations and companies based in Chicago doing internationally focused work.  Work, intern, or volunteer in Chicago to maintain your global connections.