Affordability
Is studying abroad more expensive than studying in Chicago? Heading link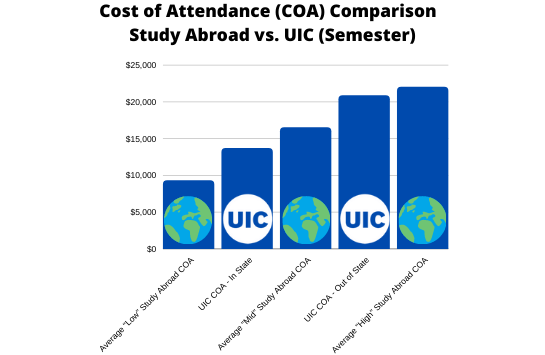 A common misconception about study abroad is that it costs more than it would to simply stay at your home campus and study. There are many factors that go into determining the true cost of a study abroad program, and while there are certainly programs that may cost more than what you typically would pay, there are many programs that cost similar, or in some cases, less than what you would pay for your regular term of study.
When considering how much it costs to study abroad, it is important to understand cost of attendance (COA). COA refers to the total estimated cost of attending a university or study abroad program.  It includes tuition and fees, books and supplies, housing, food, transportation, and personal expenses.  Sometimes students only consider the cost of tuition and fees when thinking about how much it costs to attend a university. However, just as you have additional expenses when studying abroad, you also have additional expenses when attending college here in Chicago. In order to accurately compare the cost of studying abroad to the cost of studying at UIC you need to compare COA estimates.
The graph on this page shows the average COA for study abroad programs for a semester grouped into three categories: low-cost programs, mid-cost programs, and high-cost programs. The COA represents study abroad program fees (which typically include housing and other expenses) as well as additional expenses such as anticipated personal expenses such as transportation, food, and supplies costs.  You will see that when compared to the COA for a semester at UIC for in-state and out of state students, studying abroad does not have to be more expensive than a standard semester after all!
With such a diverse portfolio of program options around the world, there are many factors to take into account when comparing costs.  Additionally, the above graph does not take into consideration the financial aid and scholarships that can be used to offset costs.  Our study abroad advisors will help you understand all of these factors, identify a program that works for your budget, and connect you to appropriate funding resources, but don't let the myth that studying abroad costs more than staying at UIC stop you from discovering the world that awaits!
Although the cost of studying abroad does not have to be that different from the cost of attendance for studying at UIC, there are still numerous resources to help you afford studying abroad. It is helpful to think about funding resources in three different categories: federal financial aid, scholarships, and community-based funding.
Federal Financial Aid: If you have a FAFSA on file for the academic year in which you would like to study abroad, you may be eligible to use some of your federal financial aid package to help defray some of the costs associated with studying abroad. In general, students studying abroad during a fall or spring semester will have access to their full financial aid package. Although federal aid is more limited during the summer, you still may have access to some aid. You are highly encouraged to speak with Hua Kao, Assistant Director in the Office of Student Financial Aid & Scholarships to learn how your particular aid package may be applied towards your study abroad program.
Scholarships: UIC students have received more than $1 million in study abroad scholarships. There are many scholarship opportunities available, both from UIC and from external sources. Our advisors will help connect you to scholarships you may be eligible to apply for and can even help you on your application. In addition, many of our program partners offer discounts exclusively for UIC students.
Community-Based Funding: Although there are many funding resources available, it is unlikely that you will find one scholarship or grant that will cover all of your study abroad expenses. It is important to think about how you might raise some of your own funds to help offset the cost of studying abroad. Students have been successful in leveraging community-based funding strategies. This simply entails looking to your personal network and the community for support. There are crowd-source funding websites specific to study abroad and some students have had success in thinking about creative ways they can give back to people who support them. The key is tapping into your network and professionally articulating why you want to study abroad to help others get excited about supporting your cause.