Before You Go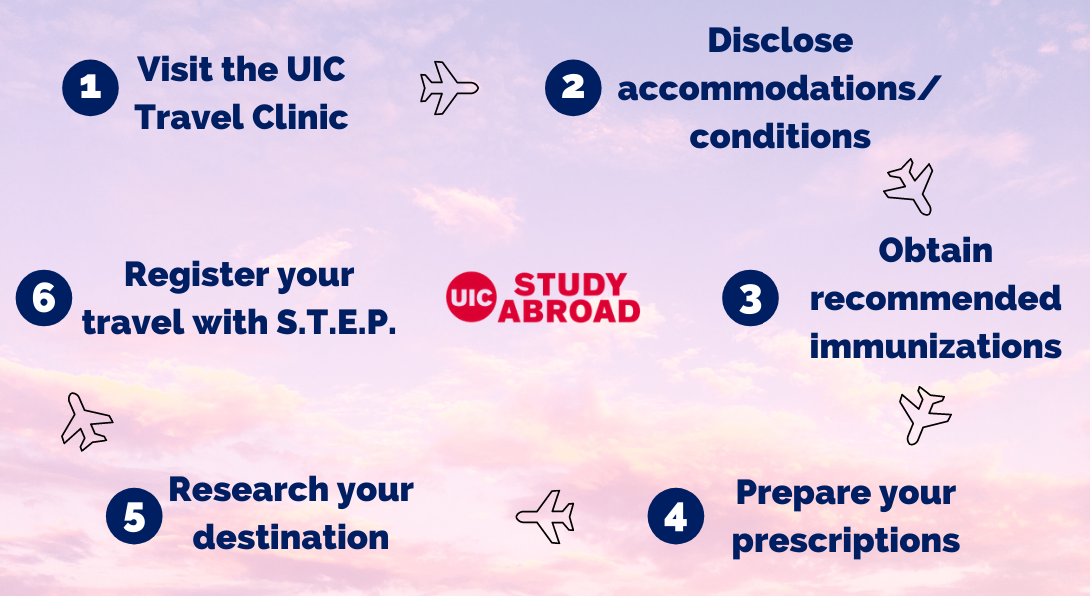 As you are preparing for your time abroad, there are a number of things that you can be doing to support your health and safety while abroad.  Make sure that you don't put these items off to the last minute as it can take some time to ensure everything is in order. If you have any questions or need any assistance, the Study Abroad Office is available to help you.
Visit the UIC Travel Clinic or your physician: You are strongly encouraged to visit the UIC Travel Clinic or your normal physician to discuss your travel plans in relation to your overall health. Depending upon the country to which you are traveling and any pre-existing conditions you disclose, you may be required to visit the clinic or your physician; if this is the case, information will be shared during the application process to your program.
Disclose accommodations/conditions: The Study Abroad Office wants to ensure that you have everything you need to be successful, healthy, and safe while abroad. Please disclose any accommodations you might require or conditions that you have which may need attention while you are abroad. Our staff will then be able to work with our partners onsite to determine if the requested accommodations can be provided. Because this process can take some time, you are encouraged to disclose this information as soon as possible. If seeking accommodations, you are encouraged to register with the UIC Disability Resource Center.
Obtain recommended vaccinations and immunizations: Depending upon the country to which you are traveling, there may be recommended immunizations for you to obtain. The Centers for Disease Control are an excellent resource for you to research what recommended immunizations there are for your host country.
Prepare your prescriptions: If you have regular medication that you take you will want to make sure that you discuss this with your physician to ensure that you have enough supply to last you throughout your entire time abroad. It is recommended that you ask for the medical name for your prescriptions as well as a note from your physician stating that you are medically prescribed the medication in case you need to obtain more medication while abroad. Some medications that are commonly prescribed in the U.S. may be illegal abroad, so make sure to research whether or not you can legally bring your medication into the host country. If you need assistance, contact the Study Abroad Office as soon as possible.
Research your destination: When traveling abroad, there is a lot of information to research prior to departing. Thankfully, there are many excellent resources available to travelers online. Here are a few key ones related to health and safety planning:

U.S. Department of State: The State Department's website is a wealth of information. You can search for a country and find out information related to entry/exit requirements, current health and safety advisories, and much more.
Centers for Disease Control: As already mentioned, the Centers for Disease Control website is an invaluable resource to find out about any recommended immunizations and current health issues in a given country.
For a balanced perspective, it can be helpful to view the official government websites of other countries. For instance, the UK Foreign, Commonwealth, and Development Office is the equivalent of the U.S. Department of State and contains information about countries around the world. Consider researching similar resources for the country to which you are traveling.

Register your travel through S.T.E.P.: The U.S. Department of State's Smart Traveler Enrollment Program (or S.T.E.P.) allows you to register your international travel so that way they can provide important updates for issues that may occur while you are abroad. This also will enable them to more quickly assist you should a large-scale event take place necessitating support from the U.S. government. All U.S. citizens are strongly encouraged to register their travel with S.T.E.P.