Choosing a Program
No Title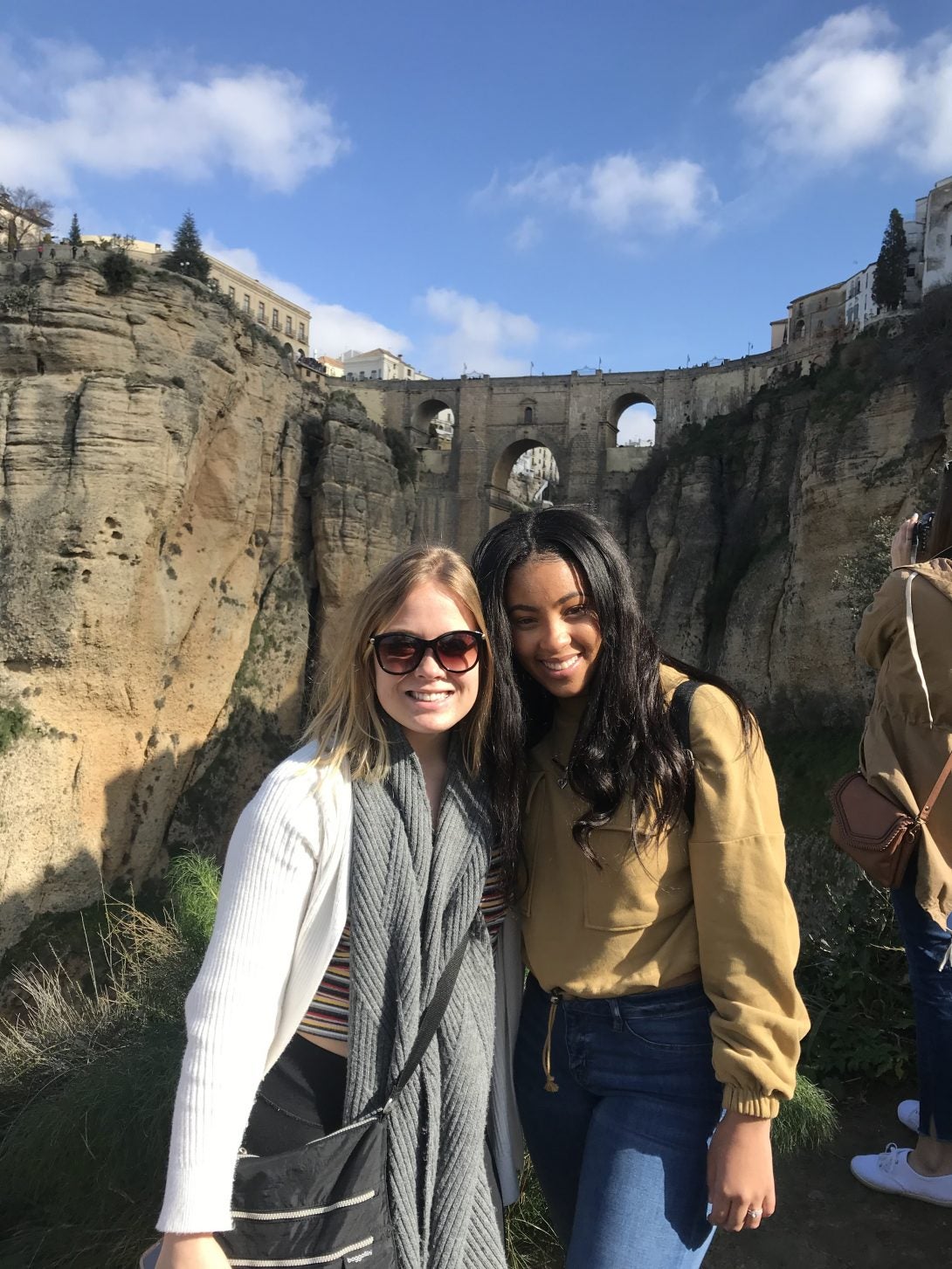 While you may share similar experiences as your peers abroad, your study abroad experience is meant to be YOUR study abroad experience. Program fit is key to a positive and beneficial study abroad experience.  Although they can assist with helping you think about the program you will study on, no advisor, friend, mentor, parent, or guardian can make that decision for you. We recommend you engage in some personal reflection before selecting a program and think through these three general questions as you consider the below factors.
Why are you choosing to study abroad?
What do you hope to gain from the experience?
What do you need to be successful abroad?
Below are some tips and some guided questions for choosing the study abroad program that aligns best with your goals, interests, needs, and preferences.
After you have reflected on these questions and browsed our program search feature, meet with an advisor to discuss your options in depth.
No Title
Goals

Choosing your study abroad program should be an intentional choice based upon your short and long-term goals. By making an intentional choice in selecting your study abroad program it will not only improve your learning outcomes and overall experience abroad, but also make you a more competitive candidate for scholarships and funding.

Among the most important things to consider in selecting a study abroad program are your academic, professional, and personal goals.  These vary by person and may evolve and change as you move through your academic career.  Review the below sections on considering your identities, your strengths, and program type/academics and use the questions as guides to developing your study abroad goals.

Complete this goal-setting reflection worksheet (Coming Soon) to gain a better idea of what your goals are and how they relate to study abroad!

Strengths

When seeking out a new opportunity or entering into a new environment it can be helpful to learn more about your strengths as an individual.  It is common for people to focus on their weaknesses or areas they need to improve upon and neglect consideration of their strengths.  Every individual possesses a unique set of strengths that allow them to excel in new situations, such as studying abroad.  Focusing on your strengths, instead of your weaknesses, can provide a starting point for self-discovery.  This self-discovery often illuminates what you value most, and what type of environment you will thrive best in.

There is a popular assessment tool known as the Clifton StrengthsFinder.  Many first-year students are required to take this assessment in their first-year seminar to help guide them through major and career exploration.  The results of this assessment can also be helpful in identifying the type of program that aligns best with your individual strengths. The more you know about yourself and your skills, the more you will gain from study abroad.

If you have not taken the assessment, click here to get started. The StrengthsFinder assessment takes 30 minutes. You have 20 seconds to respond to each item. The assessment will provide you your Top 5 Signature Themes Report on your screen. Once you've completed the StrengthsFinder, you will have access to your reports and additional resources in your account. We encourage you to review the materials on the site, as they will give you an in-depth analysis of each of your strengths.  For a quick snapshot of all the strengths and a short reflective exercise, download this worksheet and reference card.

Once you have taken the assessment, please consider completing the UIC Study Abroad StrengthsFinder Planning worksheet (Coming Soon) to help you identify the program for you! You can also share them with your study abroad advisor as you seek guidance on selecting a program.

Program Type & Academics

For a general overview of all program models, visit our program types page to learn more about their unique features!

Consider your learning environment.

Do you want to take all your classes in English, the local language, or a mix of both?
Do you want a more independent experience by directly enrolling at a local university or participating in an exchange program?
Or do you prefer a more supportive and hands-on environment where you take courses at a program center or international school with other U.S. or international study abroad students. This allows you access to more student affairs and academic support staff.  Hybrid options exist as well!
Are you interested in an internship, research, or community engagement opportunity as a part of your program?

Consider your classmates.

Do you want to take classes with other UIC students or with other study abroad students, either from US or
foreign institutions?
Would you prefer to enroll at a local university and take all your courses with local students at that university?

Consider the faculty and instructors.

Are you interested in participating in a faculty-directed program with courses taught by a UIC faculty member?
Would you like to be taught by local faculty and instructors either at a program center or at a local university?

Consider Your Major/Discipline.

Do you need to complete major, minor, elective, or language credits?  Be sure to discuss your study abroad program with your academic advisor.
Is there a particular term that is best for your major to study abroad? Consult your academic advisor.
Would you like to focus on a new area of study during your program or take a deeper dive into one you are already studying at UIC?
Does participating in a high-impact experience such as an internship, research project, or community engagement contribute to your academic degree, improve acceptance to special academic programs, or enhance your resume for future graduate and employment opportunities?

Check out our new major and discipline guides with recommended study abroad programs for your degree!

Filter by discipline in our program search database!

No Title

When selecting a program it is important to consider your personal identities and how they relate to a study abroad experience.

Consider how your program location might influence your own identity exploration and development.

Is there is a particular identity you would like to explore more?
What aspects of your personal identity are important to consider when studying abroad?
Do you identify with a particular heritage and would you like to travel to a country where you have a familial connection?  Or do you want an opportunity to explore your identity independent of the social norms and expectations in your own community and the U.S.?

"As a Chinese-Filipino American, I chose SIT China to not only learn about traditional Chinese medicine and health in China, but to connect with my Chinese roots. Within 4 months of traveling, making lifelong friendships, and absorbing Chinese culture like a sponge, I was able to connect with a culture that was so eager to learn about and my experiences have shaped my personal interests and career goals for the future." –  Michelle Moy, Rehabilitation Sciences, SIT Community Health & Traditional Chinese Medicine, Kunming, China

Consider differences between your host country and your own. 

Does your identity conflict or align with your host country's cultural values, norms, and traditions?
How might someone from a different country or culture categorize or interpret your race, religion, or ethnicity?
How will the new environment challenge, support, or reinforce how you identify and perceive yourself and others?
Are there locations that may be more safe and comfortable spaces for you to express your personal identity?

Identify resources and support networks.

Depending upon your identities you may be perceived differently.  As you consider program locations, it is important to review resources specific to the host country and your unique identities in order to better ensure your safety and well-being abroad while also preparing you for cross-cultural encounters. Additionally, we recommend you seek out support networks at UIC and in your own community. The Study Abroad Office, advisors, faculty, friends, study abroad alumni, and the on-site study abroad program staff can all serve as excellent resources and advisors in navigating your identities abroad.

Access resources for different identities and learn more about how you can navigate study abroad!

No Title

Program costs for study abroad vary based on location, duration, and program model; however, the majority of study abroad programs are comparable in price to cost of attendance (COA) at UIC. COA refers to the total estimated cost of attending a university or study abroad program.  It includes tuition and fees, books and supplies, housing, food, transportation, and personal expenses.  Sometimes students only consider the cost of tuition and fees when thinking about how much it costs to attend a university. However, just as you have additional expenses when studying abroad, you also have additional expenses when attending college here in Chicago. In order to accurately compare the cost of studying abroad to the cost of studying at UIC you need to compare COA estimates.

Some programs are more expensive, but offer a variety of scholarships and funding options specific to those programs.  Other programs have a baseline cost that is significantly lower, but there may be less scholarships available for those particular programs.  If the program cost is higher, consider why that is?  Are there additional resources, co-curricular opportunities, a research or internship component included in the overall cost, Is the program located in a more expensive city?

Program Features

Should you choose to study in a lower or higher cost location?  Major cities and popular tourist destinations tend to be more expensive in terms of program cost (tuition and housing) and daily living expenses.  Many non-traditional locations, smaller cities, or rural locations tend to have a lower cost of attendance.
Are there options for living arrangements that are more or less cost effective?  Usually homestay options are the most affordable available to students, especially because 2-3 meals daily may be included in the cost of housing.

Financial Aid & Funding

Are you planning on using your financial aid towards your study abroad program expenses?

Financial aid travels with you abroad for programs during the academic year (exceptions include the veteran tuition waiver, honors tuition waiver, and some other tuition waivers). Tuition waivers can only be applied towards exchange programs. This means the money you receive to study at UIC can be applied towards an experience studying abroad.
Federal aid travels with you for summer study abroad programs.  This includes federal loans and the Pell grant.
Connect with the Student Financial Aid and Scholarships Office and schedule a meeting with our designated study abroad financial aid advisor, Hua Kao (hkao1@uic.edu ) to learn more about your specific financial aid package

How much does a semester abroad cost in comparison to a semester at UIC? Check out our affordability page to learn more!
If you use federal or state financial aid, have you submitted a cost sheet to have your aid reassessed to receive additional funding?  Connect with Hua Kao at hkao1@uic.edu 
Have you brainstormed community-based funding ideas?
Have you explored scholarships offered for study abroad?  In a recent academic year, students applied over $1 million in scholarships and grants to study abroad.

Fund your study abroad experience with scholarships!

Location

Your study abroad experience is greatly influenced by the environment in which you choose to study.  It is wise to reflect on what type of academic environment and location you will thrive in.

Do you have a specific culture, region, or country of interest?
Would you prefer a traveling program with multiple destinations?
Would you prefer to live in a major metropolitan area, a small city, or a rural area?
What themes, issues, or disciplines do you want to study abroad? Is there a particular university, country, or region that specializes in these topics?
Are you planning on participating in an internship or conducting research? Is there a location that is best suited for this high-impact experience?

Filter by location in our program search database!

Duration

The duration of your program impacts the overall cost of attendance, your potential linguistic and cultural immersion, and the amount of credit earned abroad, among other factors.

How much time do you want to spend abroad?

A few weeks
An entire summer
A semester
An academic year, or
A calendar year?

How much flexibility do you have for when you can study abroad?

Consider employment/internship opportunities at home
UIC academic requirements
Familial obligations

Filter by term in our program search database!

No Title

Students can choose from a variety of housing options including homestays, research centers, shared or private apartments,  or shared or private residence halls.  Short-term programs may house students in hostels, pensions, or hotels. Some programs will offer several options for students to choose from and others will offer only one option.  Students participating on exchanges will most likely need to make their own independent housing arrangements and will have to complete a housing waiver.  If you do need to set up independent housing, your exchange program and the Study Abroad Office will assist you by providing resources in locating housing for your study abroad program.

When reviewing program options, consider the housing arrangements offered and the role your choice of housing may play in your cultural immersion and meeting your personal and academic goals.

Do you want to live in a homestay, apartment, or residence hall?
Does the program offer various housing options or only one option?
Do you want to live with all U.S. students?  Do you want to live with international students?  Do you want to live with local students from the host country? Do you want to live with a family from your host destination?
Read on to uncover more resources to help you select the best program.
Check out these other pages to uncover more resources to help you select the best program.